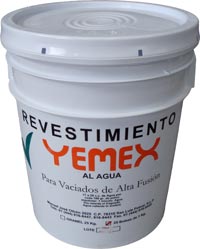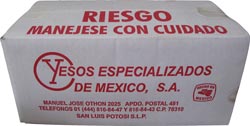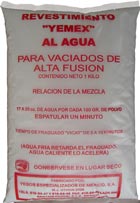 "Yemex al Agua" Investment
Back
Characteristics
This heat resistant material's hardening is accomplished by a water and whipped mix instead of a plaster base. It happens by a reaction between metal rust and an ammonium's salt. A percentage is made of silica. It is the right investment to pour high melting point metals and alloys, especially the chrome-cobalt alloys, by the "lost wax" procedure. It is used to fill the mould when pouring high melting point metals (chrome-cobalt alloys) refractory molds, or oven's covering.
Type Consistency
It is recommended to use a rate of 17 to 20 cc water with 100 g powder to obtain a thick and fluid mix that gives a good mechanical resistance to the final product.
"Vicat" Setting Time
Of 5 to 15 minutes.
Package
Plastic can with hermetic seal containing 25 Kg packed in 1 Kg polyethylene bags. Card box containing 10 Kg packed in 1 Kg polyethylene bags.
Uses
An acid reaction occurs when the material hardens, that's why it's used in the Dental Technique to obtain chromo-cobalt alloy's castings, plus it is great as covering for certain type of ovens, as well as to make certain muflas, blocks and refractory molds.
Physical Properties
Water to 100g of Powder

17 – 20 mL

"Vicat" Time

5 – 15 minutes

Compressive Strength

DRY (24 hr)

100 Kg/cm2

Particle Size

60 micron