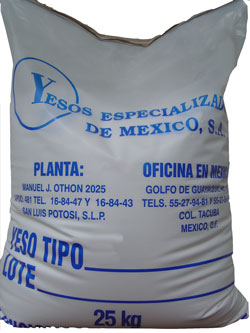 "Alfa Loteado" Orthopedic Plaster
Back
Characteristics
This calcinated alpha hemi hydrated plaster of maximum purity and very creamy and white color is appropriate in the manufacture of plaster bandages.
Compressive Strength
500 Kg/cm2 using a rate of 40 cc water with 100 g powder.
Setting Expansion
0.1 to 0.5% linear.
Grinding
90% pass trough a 200 mesh.
"Vicat" Setting Time
Fast "Alfa Loteado" : 1.5 minutes
Regular "Alfa Loteado" : 2 to 2.5 minutes
Package
25 Kg polyethylene bags. It is made in white.
uses
Used in orthopedic plaster bandages.
Physical Properties
Water to 100g of Powder

40 mL

"Vicar" Time

Fast

1 – 1.5 min

Slow

2 – 2.5 min

Compressive Strength
DRY (48 hrs)

500 Kg/cm2

Linear Setting Expansion

0.1 – 0.5 %

Particle Size

74 micron