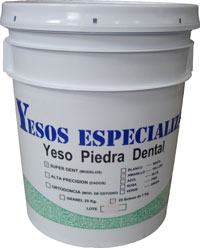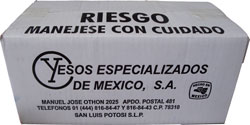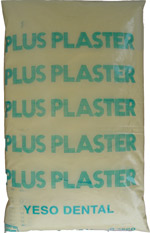 "Plus Plaster" Gypsum Rock
Back
Characteristics
The crystal of this gypsum has few porosity an very regular shape that permits the use of very small amount of water to obtain a very high compressive strength and very hard models.
Compressive Strength
With a 30 cc water for each 100 grams of powder, 24 hrs after resists compression 750 Kg/cm2.
Setting Expansion
The setting expansion for this gypsum is controlled around 0.102% linear.
Grinding
90% pass trough a 250 mesh. The average particle size is 62 microns.
Setting Time "Vicat":
With 30 a 35 cc of water, the setting time is 5 a 10 minutes.
Package:
Polyethylene's container with hermetic seal containing 25 Kg.
Polyethylene's bag containing 25 Kg.
10 Polyethylene's Bags containing 1 Kg, packed in card box.
It is made in white, ochre and blue.
Uses
Models to study and work.
Propiedades fÍsicas
Water to 100g of Powder

30 – 35 mL

Working Time

4 – 6 minutes

"Vicat" Time

5 – 10 minutes

Compressive Strength

WET (1 hr)

350 Kg/cm2

DRY (48 hrs)

750 Kg/cm2

Setting Time

0.102 % linear

Particle Size

74 micron